HARMAN Professional Solutions Brings Immersive Sound To Sonic Union's New Dolby Atmos Mixing Rooms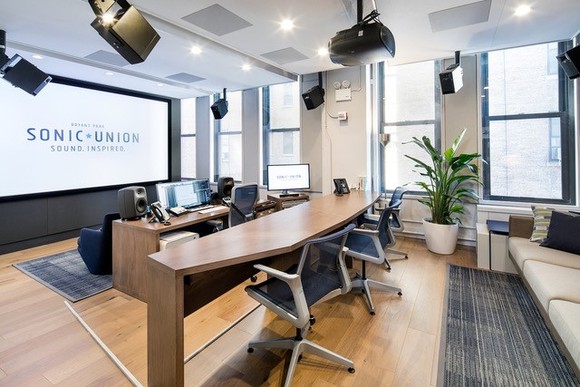 avril 25, 2018
NEW YORK CITY—Livewire Sound and Image recently deployed a complete HARMAN Professional Solutions monitor system at Sonic Union, a New York City audio post-production house.

After opening their original Union Square facility in 2008, Sonic Union opened a second facility in nearby Bryant Park in 2017. The new facility is designed to serve the burgeoning immersive audio market, and includes a certified Dolby Atmos mixing room. During construction, Sonic Union management began looking for a monitoring system that could deliver exceptional depth, clarity and power, while also maintaining a compact footprint. After careful consideration, they selected JBL 7 Series studio monitors for their exceptional output, stunning detail and impressive accuracy, and a JBL Intonato 24 Monitor Management Tuning System for its incredible control and management capabilities.  

"We're in New York City where space is at a premium," explained Joe O'Connell, Sonic Union partner and engineer. "We planned to have comfortably sized rooms at the new location, on the scale of a home theater or large living room—but not huge. We agreed early on it was important to immerse our clients in audio, not speakers. I had previously been to a JBL 7 Series demo and remembered being blown away by how good the 5" models sounded, especially for their size. There is a richness to the sound, even at low volumes, that is really remarkable. When considering the combination of sound quality and space efficiency, the 7 Series was the clear frontrunner. And now that I have the benefit of using them on a daily basis, I know we made the right choice."

The HARMAN monitor system includes a total of 17 JBL 7 Series powered bi-amplified reference monitors. For the front left, center and right speakers, Sonic Union chose 708P loudspeakers, which feature 8" low frequency drivers. For the surround and ceiling speakers, they opted for the smaller 5" 705P loudspeakers. To handle the  LFE channel of the Atmos configuration, they chose JBL LSR6312SP subwoofers. Monitor management and tuning are handled by a JBL Intonato 24 processor and an Intonato DC desktop controller. 

The Intonato 24 plays a crucial part role in Sonic Union's mixing workflow—not only does it offer analysis, room tuning and calibration for each speaker, it has flexible routing capabilities and can save routing presets. With two locations, eight engineers, and projects in a variety of surround formats, that flexibility was a significant benefit for Sonic Union.

"With nine staff mixers, our workflow is designed so we can easily pick up each other's jobs and work in different rooms in either Union Square or Bryant Park," said O'Connell. "The JBL Intonato makes it possible for us to integrate the more complex routing needed for Atmos, along with our standard 5.1 templates and room tuning settings. With the Intonato, we can simply select a preset and quickly change between them."

The new studio is well suited not only for film mixes but a wide range of projects. With binaural surround sound soon making its way to mobile devices, and streaming services that are starting to offer Atmos content, the need for immersive mixing facilities is only going to grow.

"This is an exciting time in our industry, and we're seeing spectacular innovations in the audio field," O'Connell said. "The demand for immersive entertainment experiences like VR/AR and Atmos has emphasized the importance of great audio. When we sat down to create the road map for the Bryant Park studio, our goal was to build a creative audio lab where we not only provide services that our clients need this week—but also offer them a toolbox for their future creations. The JBL system has really helped us achieve that goal."