Geumsan Daragwon Delivers World-Class Sound for Live Performances With HARMAN Professional Solutions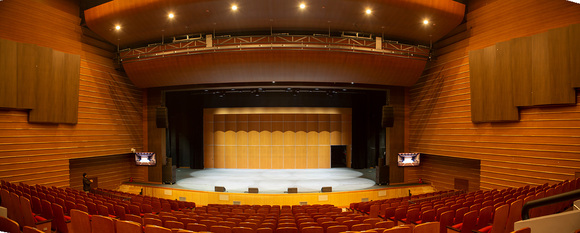 mai 26, 2021
CHUNGCHEONGNAM-DO, South Korea—To elevate guest experiences, HARMAN Professional Solutions recently collaborated with TechDataPS to equip Geumsan Daragwon with sophisticated cutting-edge audio systems.
Geumsan Daragwon is a culture and welfare center featuring literary, cultural, education, sports and health centers, as well as a large concert hall and small performance theater to host plays, musicals and concerts. In order to ensure premium sound quality at these events, Geumsan Daragwon required state-of-the-art audio solutions in each room. To achieve this, venue operators hired TechDataPS to equip the performance spaces with cutting-edge sound reinforcement systems provided by HARMAN Professional Solutions.
TechDataPS reported that a combination of good acoustics and robust system design from HARMAN helped them deliver great-sounding and reliable audio solutions that complement the architectural aesthetics of each space. They went on to say that JBL VTX A8 loudspeakers and VTX B18 subwoofers provided balanced coverage, exceptional vocal clarity and high-fidelity music reproduction.
TechDataPS deployed a combination of JBL, Crown, AKG and AMX systems to support a variety of events at the venue. The team outfitted the facility with JBL VTX A8 loudspeakers, AC28/95 compact loudspeakers, JBL VTX B18 subwoofers, VTX M20 stage monitors, Control 26CT-LS ceiling speakers, CBT 50LA-1 column loudspeakers and LSR305 powered studio monitors to deliver unparalleled sound and distinct coverage across the venue.
To ensure reliable operation and energy efficiency, TechDataPS powered the JBL loudspeakers with Crown I-Tech 4x3500HD, DCi 4|600N and DCi 4|300N amplifiers. To capture high-quality audio during performances, the team equipped the rooms with AKG C414 XLII and C451 B condenser microphones. They also included AMX MCP-108 Massio control pads to provide user-friendly control over the audio systems.
Geumsan Daragwon staff reported that HARMAN Professional and TechDataPS came together to deliver powerful, high-quality audio throughout the facility, and that they both went above and beyond to create the ultimate audio experience for their patrons. They went on to say that other audio professionals in the area have been impressed with the unmatched sound quality provided by the HARMAN Professional sound system.
"The project at Geumsan Daragwon was a unique one, considering the sheer scale of the establishment and its requirement to create immersive audience experiences across the venue," said G. Amar Subash, VP & GM, APAC, HARMAN Professional Solutions, APAC. "We would like to thank our partner TechDataPS for satisfying the client's requirements with industry-leading systems from HARMAN Professional Solutions and delivering engaging listener experiences."