FLC Samson Enhances Luxury Experiences with HARMAN Professional Solutions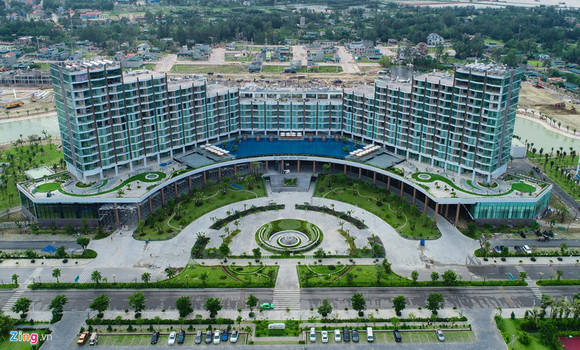 septembre 13, 2018
Ba Sao Investment deploys full-scale HARMAN Professional Solutions AV solution for world-class luxury entertainment experience at FLC Samson
HANOI, HA LONG, VIETNAM—Ba Sao Investment recently deployed a full-scale HARMAN Professional Solutions AV Solution at FLC Samson to provide a world-class luxury entertainment experience for guests.
FLC Group is a leading real estate developer in Vietnam with over 16 years of experience in resort-oriented facilities, ranging from beach villas to high-rise hotels. Their flagship property, the FLC Samson—a luxury hotel and resort on the coast of the East Vietnam Sea—is known for staging show-stopping performances from globally renowned artists in their 1,200-seat Plenary Ball Room. FLC Group recently hired Ba Sao Investment to design a full-scale HARMAN Professional AV solution at FLC Samson to elevate the sound quality of these performances both in the ball room and throughout the resort.
"FLC Samson is a five-star luxury resort, and we needed an AV solution that could provide five-star sound," said a spokesperson of FLC Group. "With our new AV solution, performances in the Plenary Ball Room are bigger and better than ever—and now guests can enjoy them from anywhere on the resort. Whether they're on the golf course, enjoying a meal in one of our fine dining establishments, or relaxing in the spa, guests can enjoy a world-class performance as if they were in the front row."
FLC Samson's new AV solution utilizes self-powered JBL SRX835P and SRX812P speakers, as well as JBL SRX818SP subwoofers for pristine sound in the Plenary Ball Room. Guests can enjoy performances anywhere on the premises with JBL AWC82 and Control 25T speakers mounted on the walls and JBL Control 24CT, 16C/T and 14C/T speakers in the ceilings—all powered by Crown CTs1200 amplifiers. Soundcraft Si Expression 1 and SIGNATURE 12 consoles offer improved flexibility and maneuverability, allowing staff to quickly deploy them almost anywhere—especially when paired with Soundcraft Mini Stageboxes. Presenters in the ball room sound crystal-clear with new wireless headset, lavalier, and handheld mics from AKG. Finally, performers look more striking than ever thanks to the Martin RUSH SM 850 fog machine and M-Touch DMX Console.
"Our goal for this project was to create a simple, easy-to-use AV system that allows faculty and guests of FLC Samson to stream high-fidelity media anywhere on site," said Mr Nguyen Minh Tuan – Project Manager, Ba Sao Investment. "Our newly designed AV Solution from HARMAN Professional makes it easier for staff to carry out their day-to-day operations like meetings, presentations and performances—and easier for guests to enjoy the luxurious sights and sounds of the resort."
"Partnering with FLC Group in coordination with our Vietnam Country Partner Ba Sao Investment to offer world class Audio and Lighting solutions is of great privilege to us at HARMAN Professional Solutions" said Ramesh Jayaraman, VP & GM HARMAN Professional Solutions, APAC. "We thank FLC Group for reposing faith in our solutions and Ba Sao Investment for their continued Customer First approach in the Vietnam Market"