mCube Family Karaoke Delivers A Premium Entertainment Experience with JBL By HARMAN Loudspeakers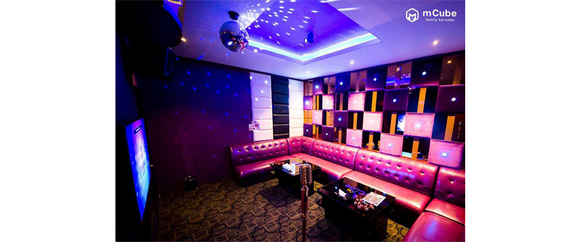 2020年7月17日
YANGON, Myanmar—To ensure a premium audio experience for karaoke parties of all sizes, Total Electronic Solutions recently equipped mCube Family Karaoke's two locations with JBL KP Series loudspeakers and Crown XLi amplifiers.
mCube is a popular karaoke chain with two locations in Myanmar's largest city. Their Waizayandar location features 18 karaoke rooms of varying sizes, while the City Mall St. John location features 10. To provide loud and dynamic music, clear and intelligible vocals and consistent, focused coverage for large and small groups, mCube required cutting-edge sound systems tailored specifically for karaoke establishments. Total Electronic Solutions outfitted both locations with complete HARMAN audio solutions featuring specialized JBL KP 4000 and 6000 Series karaoke loudspeakers powered by Crown XLi Series amplifiers.
"As the seating capacity for karaoke rooms ranges from 4 to 30 people, there was a need for a sound system that could not only ensure even distribution of sound, but also stellar audio clarity and balanced output for a wide variety of musical genres," said Mr Tin Tun Naing, Total Electronic Solutions. "The JBL KP Series karaoke speakers were the perfect fit for both mCube locations."
JBL KP Series two-way loudspeakers are custom-designed and specially tuned to meet the needs of karaoke establishments. the KP4000 Series is ideal for smaller rooms, providing full-range, high-output sound in a lightweight and easily mountable cabinet with a broad, 70 x 100-degree coverage pattern. The KP6000 Series is well-suited to larger rooms, featuring JBL's patented Differential Drive woofers for enhanced output and a tighter 70 x 60-degree dispersion pattern for more controlled coverage in multi-speaker setups. Both ranges include 10, 12 and 15-inch dual-speaker models, with the addition of the KP6018S passive subwoofer in the KP6000 Series for extra low-end extension.
Total Electronic Solutions selected Crown XLi Series amplifiers to power the sound systems at both mCube locations. Ranging from 300- to 1350-Watt models, the two-channel XLi Series delivers plenty of power and headroom for karaoke rooms of all sizes. The simple, two-knob interface and streamlined back-panel I/O make the XLi series a cost-effective option that's easy for anyone to operate.
"Standout karaoke establishments require audio solutions that cater specifically to their unique sonic requirements," said Mr Tin Tun Naing, mCube Family Karaoke. "Clarity for listening and singing, even distribution of sound pressure and adaptability for different genres of music were key requirements for our sound system, and we are delighted to say that the cutting-edge HARMAN solutions have met all the requirements. We are very satisfied with the result."
"The mCube Family Karaoke installations called for an audio solution that addressed the specific requirements of karaoke," said Ramesh Jayaraman, VP & GM HARMAN Professional Solutions, APAC. "It was a pleasure to partner with Total Electronic Solutions, and we would like to thank them for providing a customized solution that will go a long way towards mCube's legacy as the leading karaoke establishment in Myanmar."