JBL Professional VTX V20 Line Array Loudspeakers Gain Momentum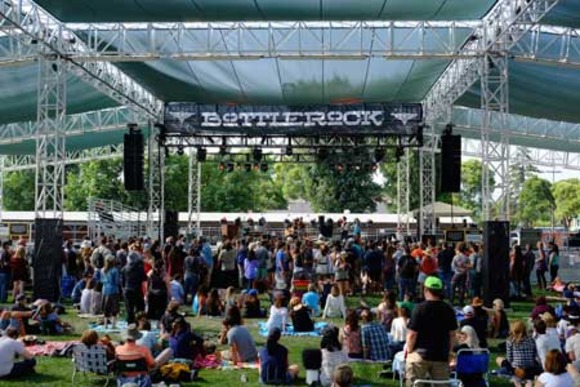 2014年6月18日
LAS VEGAS, Nevada – Since its introduction earlier this year, HARMAN's JBL Professional VTX V20 line array loudspeaker has been tremendously successful, as it has been adopted by some of the world's most respected sound companies for some of the most widely-attended festivals, concerts and tours.
Billing itself as the Ultimate Celebration, the 3-day BottleRock Napa Valley Festival offered the best in music, wine, beer and gourmet food, accompanied by stellar sound courtesy of HARMAN Professional audio systems featuring JBL's V20 line array loudspeakers and Crown I-Tech HD Series amplifiers. Camarillo, California-based full-service event production company Delicate Productions provided sound, light and video for the event.
"The VTX line arrays, subwoofers and loudspeakers proved to be exactly what was needed for the application," said Delicate Productions' President Jason Alt. "The VTX's acoustic energy was focused in the right direction, with the correct directivity being delivered forward to the audience and with very little spill to the surrounding neighborhood."
In addition, Crosby, Stills and Nash's live sound company Sound Image has upped the performance of its tour sound rig this year, using a combination of JBL V20 line array elements and S25 suspendable, cardioid-arrayable subwoofers.
"Typical CSN concert venues vary between sheds in the summer and theaters with a balcony," notes Gary Sanguinet of Sound Image's touring division. "Based on the size of the theater, on each side of the stage we'll hang a split array of six V20 loudspeakers, one or two S25 subs, and six more V20 boxes on the bottom of each hang, and then place anywhere from six to eight additional S25 subs on the ground for additional low-frequency reinforcement."
Sound contractor CTS Audio was one of the first adopters of JBL's VTX Series line arrays and it's safe to say they've liked what they heard—the company just purchased more than 100 more of them. CTS Audio added a total of 108 V20 line array loudspeakers to its inventory, plus another eight V25 loudspeakers and a bevy of VTX F Series F12 loudspeakers. While Franklin, Tennessee-based CTS Audio had used the V25 arrays at a number of high-profile events in the past year, the company put the V20 to the test for the first time at the recent 2014 K-Love Fan Awards, held at Nashville's Opry Hotel and featuring the biggest names in Christian music including Michael W. Smith, Steven Curtis Chapman, Amy Grant, Scott Stapp, Sidewalk Prophets and more than 40 other artists.
"Based on our experience with the VTX Series V25 and S28 subwoofers, we didn't think we were going out on too much of a limb with the V20's, which we were interested in for their smaller size and which would give us a more flexible loudspeaker inventory that would be adaptable to a wider variety of venues," said Mike Taylor, Vice President at CTS Audio.
The VTX V20 loudspeaker features a true 3-way system design with proprietary D2 Dual Diaphragm Dual Voice Coil compression driver and Differential Drive™ low frequency transducer technology along with patent-pending ultra-linear motor technology employed for midrange components. In keeping with the philosophy of the VTX Series, the VTX V20 has extremely high power density with each line array element featuring two 2261H 10-inch Differential Drive™ woofers, four 2164H 4-inch ultra-linear midrange transducers and three of the new small-format D2415K Dual Drivers.
HARMAN (www.harman.com) designs, manufactures, and markets a wide range of infotainment and audio solutions for the automotive, consumer, and professional markets. It is a recognized world leader across its customer segments with premium brands including AKG®, Harman Kardon®, Infinity®, JBL®, Lexicon®, and Mark Levinson® and leading-edge connectivity, safety and audio technologies. The Company is admired by audiophiles across multiple generations and supports leading professional entertainers and the venues where they perform. More than 25 million automobiles on the road today are equipped with HARMAN audio and infotainment systems. HARMAN has a workforce of 15,200 people across the Americas, Europe, and Asia and reported sales of $5.1 billion for the last twelve months ended March 31, 2014.