JBL Professional Delivers More Ceiling Speaker Options to Systems Integration Community with New Control 45C/T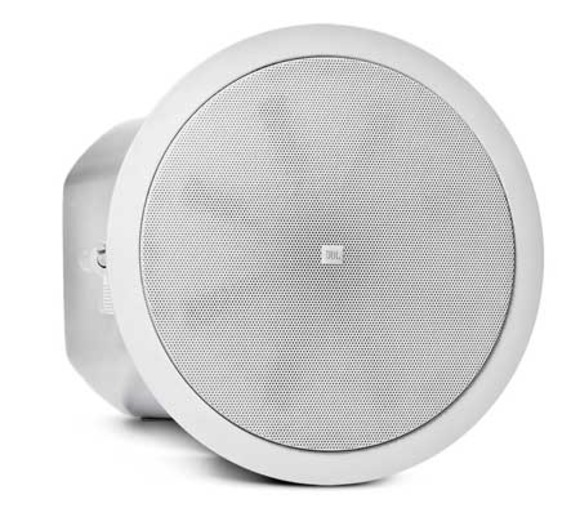 2014年6月18日

LAS VEGAS, Nevada – Adding to its incredibly successful Control® Contractor 40 Series, HARMAN's JBL Professional is introducing the Control 45C/T coaxial ceiling loudspeaker. Along with providing high fidelity and smooth, wide bandwidth sound, this 2-way, 5.25-inch loudspeaker offers extremely consistent 120-degree broadband pattern control featuring JBL's exclusive conical Radiation Boundary Integrator (RBI™) technology.
"The JBL Control Contractor 40 Series has been popular with systems integrators around the world, thanks to its combination of outstanding pattern control and exceptional sonic performance," said Rick Kamlet, Senior Manager, Commercial Sound, JBL Professional. "The Control 45C/T loudspeaker shares these same qualities makes available for our customers a smaller full-range Control 40 Series model for their projects. We see it as an ideal solution for a wide variety of applications where a smaller size, smooth response and even coverage are desired."
The Control 45C/T is a premium in-ceiling professional loudspeaker designed for environments that can benefit from extremely wide bandwidth and very consistent coverage from a speaker with a small footprint. Thanks to JBL's RBI technology, the tweeter sound is well-controlled by a large waveguide, while the low-frequency sound projects through specially designed apertures in the RBI. This design allows for a seamless integration of coverage over a wide bandwidth from coaxially- mounted drivers. The result is that the sound character is extremely consistent throughout the listening space with little variation from location to location. In addition to providing better coverage of the listening area, the constant directivity coverage allows for the use of fewer loudspeakers compared to speakers that have less consistent coverage control.
The large backcan on the Control 45C/T, along with the low-frequency driver design, provides extended bass response for a warm full-bodied tone. The system's 5.25-inch woofer features a polypropylene cone and pure butyl rubber surround for long life. The coaxially mounted 0.75-inch soft dome features ferro-fluid cooling for enhanced power handling and reduced power compression.
Ideal for small and large projects alike, the Control 45C/T is switchable for use as either an 8-ohm low-impedance speaker, or as part of a 70V/100V distributed loudspeaker system.
HARMAN (www.harman.com) designs, manufactures, and markets a wide range of infotainment and audio solutions for the automotive, consumer, and professional markets. It is a recognized world leader across its customer segments with premium brands including AKG®, Harman Kardon®, Infinity®, JBL®, Lexicon®, and Mark Levinson® and leading-edge connectivity, safety and audio technologies. The Company is admired by audiophiles across multiple generations and supports leading professional entertainers and the venues where they perform. More than 25 million automobiles on the road today are equipped with HARMAN audio and infotainment systems. HARMAN has a workforce of 15,200 people across the Americas, Europe, and Asia and reported sales of $5.1 billion for the last twelve months ended March 31, 2014.