JBL Professional, Crown, and Soundcraft Provide Versatile Audio Solution for Rhema Bible Church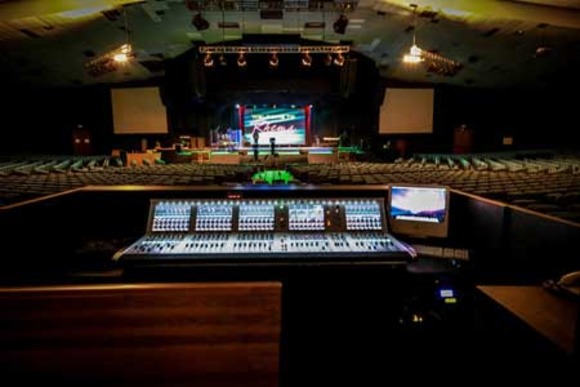 2013年12月17日
---
JOHANNESBURG, South Africa – The popular Rhema Bible Church in Randburg, Northwest Johannesburg, is a house of worship dedicated to learning and growing. With a seating capacity of 7,500, the Rhema Bible Church was in need of an upgrade to its sound reinforcement system for its large 180-degree bowl-shaped auditorium. Senior Pastor Ray McCauley turned to audio consultants SoundGP and HARMAN Professional South African distributor, Wild & Marr (Pty) Ltd., who provided an integrated audio infrastructure and broadcast/production facility consisting of HARMAN's JBL Professional, Crown, and Soundcraft components.

The audio system had to support the multi-functional needs of Sunday morning services, with spoken word being the top priority. In addition, it needed to deliver high-end concert performance over the substantial audience noise levels generated in the large auditorium, while providing the necessary capability for international touring artists, without the need for additional equipment.

"The previous system was unable to cope with the new high-energy content being generated in many forms — from live music to AV," stated Pastor Alan Plant, who heads logistics for Sunday services. "Due to its age, the speech coverage was uneven and not up to the level of consistency required to ensure a pleasant listening environment."

Wild and Marr chose JBL's VTX line array system powered by Crown's flagship I-Tech 12000 HD power amplifiers. The system is controlled by the latest version of JBL HiQnet Performance Manager™ software. The system needed to be transformed into one that communicated to a fast-growing, youth-focused audience. "This market consumes media in a different way with expectations of seamless integration of varying media streams from acoustic rock to low-end electronica bass tracks to multimedia streaming," explained Gustav Teitge, Wild & Marr Systems Engineer.

To fulfill the church's requirements, Wild and Marr outfitted the auditorium with four arrays of six JBL VTX V25 loudspeakers and two JBL VERTEC® VT4886 subcompact enclosures per array acting as down fills. The system also includes three JBL VTX S28 subwoofers per side in a cardioid array. Eight JBL STX815M loudspeakers were also used to provide delays to the rear seating area.

By using a specially designed MADI routing solution, the church now has expanded routing flexibility and is capable of future expansion. This is a first-of-its-kind solution in such an environment, enabling the sound operators to mix 96 channels from the Soundcraft Vi6 stage box mic pre-amplifiers. Sixty-four of these channels are made available to the monitor Soundcraft Vi1 or the Soundcraft Vi1 in the broadcast/production facility as well as the permanent recording PC, which also doubles as a virtual sound check playback device.

The Soundcraft Aviom expansion card provides flexibility of routing to any console bus feed. This digital signal backbone also provides adequate tie lines for signal interconnection between the various consoles while passing AES/EBU signal to the main PA via the MADI router. An analogue signal routing system provides redundancy to the main PA ensuring reliable signal transport to the Crown I-Tech HD amplifiers.

Gustav Teitge adds that the system performance objectives had been clearly met by installing JBL VTX. "The new technology incorporated into the D2 driver, as well as other innovations, like decreased component gaps and structural changes, make seamless audio interconnectivity when moving around the auditorium a priority — thus lending itself to extremely smooth and accurate audio distribution."

SoundGP owner, Cristo Hattingh, was responsible for the voicing of the system. In addition, challenges faced and overcome along the way included restricted height due to the funnel shape of the space's profile (incline floor, decline roof towards the rear) creating unique standing waves in the low-mids and making it very challenging to achieve an even low-end distribution.

The implementation of a collaborative HARMAN product line was the first of its kind in Africa using this type of technology. "Utilizing the new VTX loudspeaker system all the way down to a MADI integrated Soundcraft fiber signal distribution and control backbone provided an innovative and successful solution to the many challenges the Rhema Bible Church presented," concluded the design team.


HARMAN (www.harman.com) designs, manufactures, and markets a wide range of infotainment and audio solutions for the automotive, consumer, and professional markets. It is a recognized world leader across its customer segments with premium brands including AKG®, Harman Kardon®, Infinity®, JBL®, Lexicon®, and Mark Levinson® and leading-edge connectivity, safety and audio technologies. The company is admired by audiophiles across multiple generations and supports leading professional entertainers and the venues where they perform. More than 25 million automobiles on the road today are equipped with HARMAN audio and infotainment systems. HARMAN has a workforce of about 14,000 people across the Americas, Europe, and Asia and reported sales of $4.3 billion for the fiscal year ended June 30, 2013.