HARMAN'S JBL VTX Line Arrays and Crown I-TECH HD Amplifiers Star In 2013 Sunset Strip Music Festival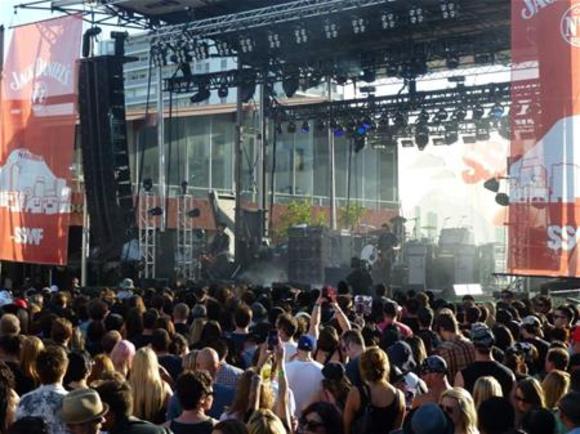 2014年1月22日
LOS ANGELES, California —The epicenter of rock music on the west coast will find you on Sunset Boulevard in Los Angeles, California and at no time of year is the iconic street louder than the annual Sunset Strip Music Festival. Featuring artists such as Street Drum Corps, Finch, Black Rebel Motorcycle Club, Awolnation and headlined by Linkin Park. Escondido, California-based Sound Image supplied a HARMAN JBL VTX system powered by Crown I-Tech HD amplifiers for the festival which took place on August 3rd, 2013.

The system Sound Image deployed for the festival featured 24 JBL VTX V25 full-size line array elements (12 per side) along with four VERTEC® VT 4887A compact line array elements for front fill, 18 VTX S28 subwoofers (nine per side) and eight VTX G28 subwoofers in a single cardioid array. Crown I-Tech 12000 HD amplifiers powered the entire system.

"The VTX line arrays are a huge step forward sonically. It's very smooth and the low-end is tighter and you have more headroom at the high-end as well. Plus using JBL HiQnet Performance Manager™ Software is extremely straight forward and intuitive," explained Rich Davis, Audio Engineer for Sound Image.

Considering the time crunch, the combination of the Crown-powered VTX system used in conjunction with Performance Manager made the entire production far more efficient. "This was a one day festival and we didn't have the ability to do load in the day before. We were onsite at 3:00am and once the stage was in place we had everything set-up quickly. Paul Bauman from JBL had visited the site and done some preliminary work and then it was just a matter of refining some of the angles and the distance we needed to throw. Being able to do everything from assigning the amplifiers to tuning the PA with delay times in the software is a major time saver," added Davis.

For headliners Linkin Park, the difference in the VTX rig is unquestionable. "My favorite PA out there is the JBL VTX. At the high-end it really shines, there is no distortion and its capabilities are unlike anything else that is out there right now, when I'm out with Linkin Park it's our first choice," added Ken "Pooch" Van Druten, FOH Engineer for Linkin Park.

Sunset Music Festival's Head of Production, Phil Jaurigui, explained how this was a unique year for the festival. "After years of using JBL systems for smaller staging applications, I was overjoyed by the sound and performance of the VTX system for the main stage at the Sunset Strip Music Festival," he said. "It was not only twice as loud than the previous system we have used that fit into the same footprint, it also had a punch that was clear and noticeable even two blocks away. This performance has made me a firm believer in large-scale JBL touring rigs forever."

"We are extremely pleased to be specified on Linkin Park's technical rider and it was a pleasure to support them on this event. Ken Van Druten always does a fantastic job in making the VTX system sound great! Rich Davis and the Sound Image crew did a great job as always in ensuring that everything ran smoothly and the VTX system performed flawlessly. In particular, the EDS cardioid subwoofer array provided excellent onstage rejection - something that is important to the band members of Linkin Park - while providing high impact out front combined with very even horizontal coverage without any power alley issues whatsoever," stated Paul Bauman, Senior Manager, Tour Sound for JBL Professional.

"Swing House has produced the Sunset Strip Music Festival since its inception six years ago and building a large-scale street festival on Sunset Boulevard in just under 12 hours is an almost impossible task," Jaurigui added. "However, with the great team of Sound Image, DPS and Bartles International Group all working jointly with us along with the addition of the JBL VTX system, it came off without a hitch and was the best-sounding and best-looking show we have ever presented."

For more information on Sound Image please visit:www.sound-image.com

For more information on Swing House, please visitwww.swinghouse.com

For more information on the Sunset Strip Music Festival please visit: www.sunsetstripmusicfestival.com.
HARMAN (www.harman.com) designs, manufactures and markets a wide range of audio and infotainment solutions for the automotive, consumer and professional markets — supported by 15 leading brands, including AKG®, Harman Kardon®, Infinity®, JBL®, Lexicon® and Mark Levinson®. The Company is admired by audiophiles across multiple generations and supports leading professional entertainers and the venues where they perform. More than 25 million automobiles on the road today are equipped with HARMAN audio and infotainment systems. HARMAN has a workforce of about 13,400 people across the Americas, Europe and Asia, and reported sales of $4.4 billion for the fiscal year ended June 30, 2012.