Brad Paisley's "Weekend Warrior" Tour Hits the Road with HARMAN Professional Solutions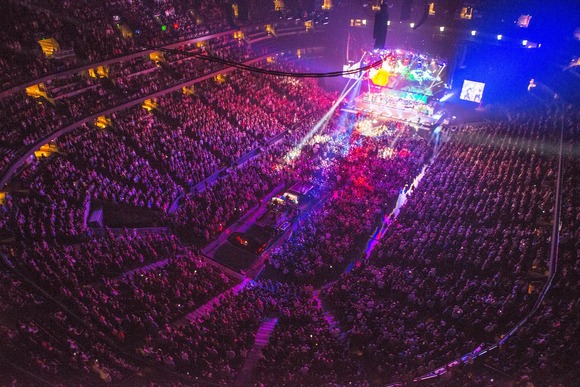 2017年11月08日
GRAND ISLAND, Neb.—For his 35-show "Weekend Warrior" tour, country singer and guitarist extraordinaire Brad Paisley is traveling with a complete JBL by HARMAN VTX V25-II audio system supplied by Sound Image.                          
The tour, which started May and ran through September, covers amphitheaters from coast to coast and included a quick jaunt to Sweden and Norway for three shows in July. Kevin Freeman, Paisley's FOH engineer for the last 18 years, has been using JBL gear for a long time and was an early adopter of the VTX V25-II system.
"We were the first national act to use JBL VTX, and we used VerTec before that," said Freeman. "The VTX V25-II system delivers the clarity and punch that Brad's music needs, and has all the ingredients that I'm looking for. The high end throws a long way and is totally clear, the hanging boxes go down to 40 Hz and we only use the subs to supplement the mix. The VTX V25-II is definitely a full-range PA—I'm very impressed with it."
For this tour, Sound Image, one of the industry's most respected audio production companies, put together a complete JBL system consisting of 24 VTX V25-II loudspeakers and 16 G28 subwoofers deployed on the ground. The entire system is powered by Crown I-Tech HD Series amplifiers.  
"For an artist like Paisley, you want a PA that can deliver powerful output and transparent sound to let the music shine through," said Dave Shadoan, President of Sound Image. "The JBL system meets those needs perfectly, and offers the versatility to handle all the varied musical elements. It's also rock-solid and reliable, which is critical for an artist that's on the road as much as Brad."
In addition to Paisley, the band features keyboards, bass, drums, and rhythm guitar. Country-specific instruments like pedal steel, banjo, mandolin and fiddle are a big part of the sound, and the clean high end of the VTX V25-II system is perfectly suited for reproducing them. But the element in the mix that gets the most attention is Paisley's guitar.
"Brad and I approach the mix like the guitar's number one," said Freeman. "He writes clever songs and it's very well thought out, but at the end of the day he's a guitar player and wants everybody to know it. The guitar is always in the center of the mix. The drums, bass, and all the peripheral instruments have to be in there, but Brad's guitar is primary."
Freeman could not be happier with the overall performance of the VTX system on the tour. It's depth, punch and clarity give him what he needs to create a memorable mix of Paisley's show.

"The last thing in the world I want it to sound like is a record—that defeats the purpose of going to a concert," Freeman said. "I want it to sound big, not necessarily loud, but very present and in your face. The VTX V25-II system makes that possible. I want it to move you around because that's why you're there. You're going to experience a live show—you can listen to the record at home."