ACE Provides Chang Jiang International Music Festival With Top-Tier Sound Featuring HARMAN's JBL Professional VTX Line Arrays and Crown I-Tech HD Amplifiers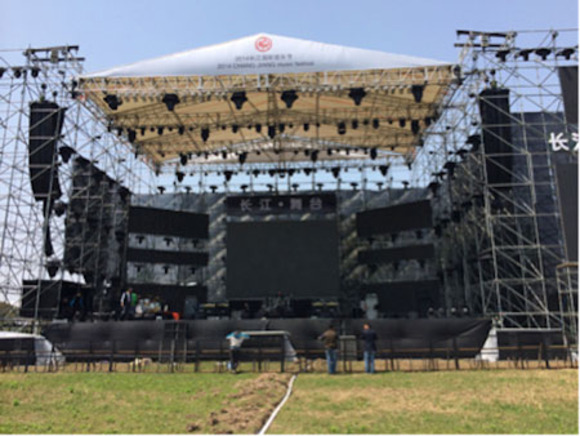 2014年6月27日

ZHENJIANG, China – Located on the Yangtze River, the city of Zhenjiang recently hosted the 2014 Chang Jiang International Music Festival, where 90,000 music enthusiasts enjoyed performances over the course of three days by well-known musicians such as Nile Rodgers, Wu Bai, Melody Chiang, and many more. Gracing the outdoor stages with world-class equipment from HARMAN's JBL, Crown and Soundcraft, HARMAN distributor ACE placed an emphasis on audio clarity and power.
The Chang Jiang International Music Festival featured three separate stages: the Yangtze River stage, which catered to artists from China, Taiwan and Hong Kong; the Jinshan stage, which welcomed global American and European artists; and the Rock Stage, which was specifically set up for domestic rock bands.
The PA system at the Yangtze Stage featured 24 JBL VTX V25 line array elements, a combination of 12 VTX S28 and G28 subwoofers, 16 STX812M loudspeakers as stage monitors, eight VERTEC® VT4888 midsize line array loudspeakers as front and side fills. The system was powered by 32 Crown I-Tech 12000 HD, eight I-Tech 6000 and two sets of I-Tech 4x3500 HD amplifiers. The Jinshan Stage featured 24 JBL VERTEC VT4889 fullsize line array elements as the main PA, 16 VT4880 subwoofers and eight VT4888 loudspeakers as front fills and side fills. This system was powered by 24 Crown ITech 12000 HD, eight I-Tech 6000 and two sets of I-Tech 4x3500 HD amplifiers. Two Soundcraft Vi6 consoles were used to manage the sound at these stages.
"Installers tend to like VTX and VERTEC systems for these types of events, because they have the capacity to put out high volumes of power and high levels of clarity in an outdoor environment," said Ben Lui, VP of ACE. "Also, the PA system is able to power through a huge amount of performances day and night in very hot weather conditions. The combination of JBL and Crown makes this possible, without additional guesswork."
The on-site technical staff was impressed by not only the PA system, but also by the Soundcraft consoles, which were able to manage the sounds from the various styles of bands originating from different parts of the world.
"The audio engineers from the bands as well as some of the audio instructors were blown away by the fidelity of our VTX system," said Lui. "The high frequencies were incredibly accurate, while the low ones packed a hard punch. The entire integrated system performed perfectly without any failure and zero distortion."
HARMAN (www.harman.com) designs, manufactures, and markets a wide range of infotainment and audio solutions for the automotive, consumer, and professional markets. It is a recognized world leader across its customer segments with premium brands including AKG®, Harman Kardon®, Infinity®, JBL®, Lexicon®, and Mark Levinson® and leading-edge connectivity, safety and audio technologies. The Company is admired by audiophiles across multiple generations and supports leading professional entertainers and the venues where they perform. More than 25 million automobiles on the road today are equipped with HARMAN audio and infotainment systems. HARMAN has a workforce of 15,200 people across the Americas, Europe, and Asia and reported sales of $5.1 billion for the last twelve months ended March 31, 2014.