Gateway Theater Revamps Its Performance Spaces with JBL Professional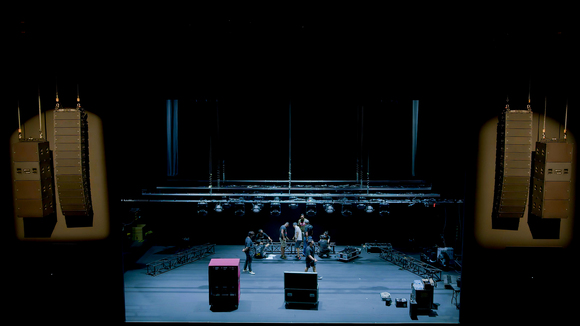 Jumat, 14 Juli 2023
Singapore—To equip Gateway Theater with impactful sound, Electronics & Engineering Pte Ltd (E&E) and HARMAN Professional Solutions selected and installed next-generation JBL Professional loudspeakers and Crown amplification.
Located at the heart of Bukit Merah Central in Singapore, Gateway Theater is a multi-theatre venue that serves as a creative arts space promoting made-in-Singapore works and talents of all cultures. The theater features several performance spaces, including a 922-seat auditorium, 207-seat black box studio, 100-seat sky garden and other multi-purpose studios.
With the vision to enhance the theater's production value and experience, Gateway Theatre engaged E&E to bring about a comprehensive and creative cutting-edge audio system. Being a popular venue within Singapore's art scene and with ongoing bookings within the venue, Electronics & Engineering Pte Ltd and HARMAN Professional needed to conduct installations without disrupting any existing venue bookings—all while navigating the COVID-19 pandemic. With these challenges in mind, the installation team selected streamlined yet powerful JBL Professional and Crown audio solutions.
Designed to excel in high-end fixed installations, the JBL VTX A-Series proved invaluable for the main theater. With a compact design and 100-degree dispersion, the JBL VTX A8 delivers optimal sound for the audience thanks to its high-quality transducers and innovative waveguide technology. Paired with the extended low end of the JBL VTX B18 subwoofer, the new audio system outputs wider dynamic range for the theater.
Additionally, the team installed an array of JBL VRX928LA 8-inch, two-way loudspeakers. Compact and lightweight, the VRX928LA is a line array speaker system that offers outstanding coverage and sonic clarity for the theater's front fill.
The sky garden received JBL CBT1000 column speaker and CBT1000E speaker extension for improved vertical coverage. When connected, the combined pair provides increased bass response, pattern control, and sound output levels. The combined array system also utilizes a horizontal waveguide so the audience can hear balanced sound from every seat in the sky garden.
For professional-grade amplification, the Crown I-Tech 4x3500HD provides up to 7000W of uncompromising power. Driven by its patented Class-I technology, the 4x3500HD provides ample output and responsive control for any performance or event.
"Sound is a key element in a staged production. In our theatre and art spaces, it plays a critical role in defining the mood of any performance," says Boon Bing, Technical Manager of Gateway Theatre. "We are pleased that E&E was able to understand that and deliver expert advice and recommendations with JBL's product range. At Gateway Theatre, we strive to provide consistently stunning world-class sound, elevating performances here through our carefully calibrated audio system and bringing immersive experiences to our audiences".
Having been involved in the original installation, we are pleased to be back to update the speaker system in the various venues to better meet the needs of Gateway Theatre and their clients," said Gary Goh, CEO, Electronics & Engineering Pte Ltd. "We are hugely grateful for the trust that the Management of Gateway Theater have placed in us over the years, paving the way for these improvements."
"Gateway Theater can now deliver impactful audio experiences," said Amar Subash, VP & GM, HARMAN Professional Solutions of APAC. "We would like to thank our partner, Electronics & Engineering Pte Ltd for their trust and confidence in HARMAN's products as we pride ourselves in providing end-to-end solutions, superior sound quality and remarkable coverage for the entertainment industry."