Orchestral Film Score Recording Returns to New York City with Monitor System from JBL Professional by HARMAN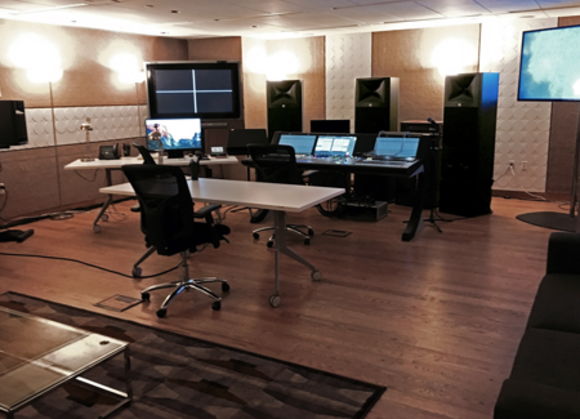 April 28, 2016
NEW YORK—New York City's only orchestral recording studio acoustically optimized for classical music, The DiMenna Center for Classical Music recently installed a complete JBL by HARMAN 5.1 monitoring system consisting of JBL's M2 and 7 Series Master Reference monitors. The system has already been used for a wide variety of audio recordings, including major film scores, like the recent Coen Brothers release, "Hail, Caesar!"
Leveraging The DiMenna Center's superb hall acoustically optimized for orchestral performances, recording and mixing experts Audiosmith Digital Solutions partnered with the center to offer full-service orchestral recording capabilities. When Audiosmith's founding partner Lawrence Manchester needed a studio monitoring system capable of producing accurate and consistent results across any production, he turned to JBL. Manchester is a GRAMMY Award-winning music producer/mixer/engineer with an impressive list of credits, including more than 85 films, such as Martin Scorsese's Academy Award-winning "The Departed," musical TV productions, such as "Adele Live in New York City," and he is also the music mixer/producer for NBC's "The Tonight Show Starring Jimmy Fallon."
According to Manchester, who first heard the earlier JBL studio monitors at GRAMMY Award-winning producer Frank Filipetti's studio in 2006, JBL's new patent-pending Image Control Waveguide technology is the standout feature on both the M2 and the LSR708i. "When I first heard Frank demo the M2s, I was blown away by the imaging and the bass response, and I could not wait to try them for myself," Manchester said. "I knew when we started this recording partnership with The DiMenna Center the M2s would be a key component and the LSR708i model proved to be an exciting new loudspeaker that we loved from the start. The Waveguide is a fantastic piece of technology that provides an incredibly engaging and satisfying listening experience."
As the acoustic interface for the M2's D2430K and 2216ND transducers, JBL Waveguide technology provides exceptional high-frequency detail and natural balance at nearly any listening position. The technology also ensures detailed imaging and a coherent transition between channels, surrounds and immersive format overhead loudspeakers.
"Consistency in how your mixes translate to the outside world is what makes a good loudspeaker and exciting people when they hear their own music playing back is what makes it a great one," Manchester said. "With film score production, one needs to be able to hear exactly what's being recorded in the room and the M2s and the LSR708i monitors provide a unique level of accuracy and reliability."
The orchestral recording studio's 5.1 monitoring system features three M2 Master Reference monitors (Left, Center, Right), two LSR708i Master Reference Monitors for surround and a JBL S2S-EX Subwoofer. The system is powered by three Crown I-Tech 5000HD power amplifiers, one Crown DCi 2|300N network amplifier and one Crown DCi 2|1250N network amplifier. The studio also uses the LSR708i in a stereo setup when a near-field listening experience is needed.
Implementing system components that easily integrate was a key motivator behind Audiosmith's decision to use JBL and Crown solutions. "We rely heavily on networked audio throughout our studio design," Manchester said. "Having a centrally managed system of DSP components that are designed to work together improves the flexibility of our setup and the accuracy of our listening."  
For more information on Audiosmith Digital Solutions, LLC:
www.audiosmithdigitalsolutions.com
 
For more information on The DiMenna Center for Classical Music:
www.dimennacenter.org
ABOUT HARMAN
HARMAN (harman.com) designs and engineers connected products and solutions for automakers, consumers and enterprises worldwide, including connected car systems, audio and visual products, enterprise automation solutions and connected services. With leading brands including AKG®, Harman Kardon®, Infinity®, JBL®, Lexicon®, Mark Levinson® and Revel®, HARMAN is admired by audiophiles, musicians and the entertainment venues where they perform around the world. More than 25 million automobiles on the road today are equipped with HARMAN audio and connected car systems. The Company's software services power billions of mobile devices and systems that are connected, integrated and secure across all platforms, from work and home to car and mobile. HARMAN has a workforce of approximately 28,000 people across the Americas, Europe, and Asia and reported sales of $6.5 billion during the 12 months ended December 31, 2015. The Company's shares are traded on the New York Stock Exchange under the symbol NYSE:HAR.