HARMAN Professional Solutions Delivers a Seamless Audio Experience at Montreal's Hotel William Gray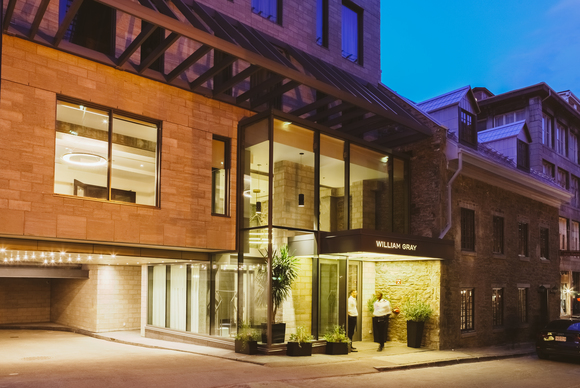 March 22, 2017
Moog Audio installs an end-to-end networked sound system made up of JBL speakers, Crown amplifiers and BSS Audio systems for Montreal's newest boutique hotel
MONTREAL—Systems integrator Moog Audio recently installed a complete audio system by HARMAN Professional Solutions at Hotel William Gray, a new boutique luxury hotel located in the heart of downtown Montreal. The building consists of a newly constructed glass tower integrated with two historic buildings that date back to the 18th century. Owner Group Antonopoulos hired Moog Audio to install a new audio system that would match the hotel's chic style and provide a great listening experience for guests. Moog Audio selected a complete HARMAN solution consisting of JBL Control Series speakers, Crown amplifiers and BSS Audio networked audio systems. The integrated system provides Hotel William Gray with exceptional sound quality, easy-to-use operation and clean, modern styling.
"We were chosen for the project because our designs are very strong technically," said Alexandre Kano, President of Moog Audio. "We always use the latest technology, and our clients know the system will be up to date. The JBL Control Series speakers are very compact, and they deliver so much sound for their size. Also, the colors and grills of the speakers are aesthetically beautiful."
SC Media Canada supplied the audio equipment for the entire project. Using a single distributor and a complete HARMAN solution helped Moog Audio streamline the installation process and complete the project quickly and efficiently.
"For a big project like this, there are so many components involved—from audio processing and amplification to speakers and brackets," said Kano. "The support from SC Media and HARMAN was amazing. They came to the site, tested everything and helped us solve any issues that came up. Instead of having to deal with 15 other distributors, we were able to use one manufacturer and distributor. The hotel staff has told us how simple and seamless the system is to use, and the client told us it was one of the best projects they've ever done. It was a huge project and everything is working flawlessly. The system is bulletproof."
The eight-story Hotel William Gray features 127 guest rooms and 10,000 square feet of event spaces, including an upscale restaurant and lounge, roof terrace, luxury spa with outdoor pool, ballroom, indoor garden, fitness center, boutique clothing store and Café Olimpico—a famous Montreal establishment. Moog Audio wanted to create one centralized and interconnected audio system for the entire hotel, which would allow the staff to play the same music throughout all of the different locations in the building simultaneously, and create a consistent, cohesive atmosphere for guests.
Developing one system for the entire building proved to be a challenge, since each area had unique requirements. The restaurant needed larger speakers in order to accommodate musical performances, while the ballroom needed versatile speakers that could be optimized for speaking conferences and presentations. And the outdoor terrace speakers needed to be weatherproof to protect against the elements. Thanks to the wide variety of speaker sizes in the JBL Control Series line, Moog was able to customize the solution perfectly to each different environment.
"There are so many different Control Series models, that we were able to adapt to each different room and suit any occasion," said Kano. "We used the JBL Control 25 speakers in the restaurant so DJs or small bands could play. During the hotel opening, they had a DJ hook his gear directly into the system without any additional speakers. People were coming up to the DJ and telling him how good it sounded."
Due to the customizable nature of the BSS Audio system, Moog Audio was able to create presets to minimize any feedback and easily tune the system room by room, ensuring that everything was operating at maximum efficiency and there were no frequency issues.
"In the ballroom where they have a lot of conferences, we isolated all the frequencies that can cause feedback and saved them in the system," Kano continued. "In the restaurant, we used a leveling feature to make sure the music stays at a constant volume while guests are dining. The entire system is very consistent."