JBL Professional VTX Series Powers Two Days of Live Electronic Dance Music at CRSSD Festival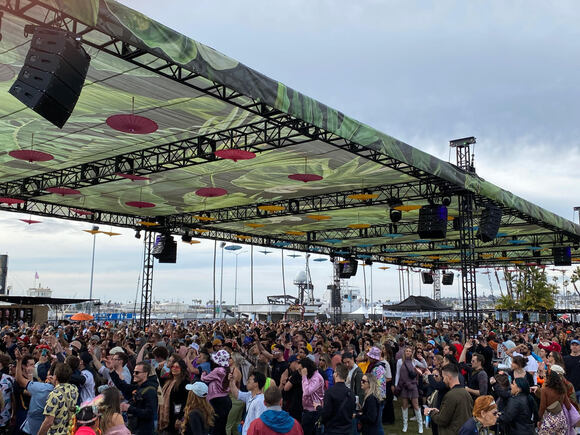 31. Mai 2023
SAN DIEGO, Calif.—JBL Professional collaborated with Show Imaging and FNGRS CRSSD to power a weekend of high-energy musical performances with a distributed live sound reinforcement solution consisting of JBL VTX Series line array speakers and subwoofers.
Since its debut in 2015, CRSSD Festival has attracted tens of thousands of electronic and indie rock fans to Waterfront Park in San Diego for two days of live music across three stages. Hosted by FNGRS CRSSD, the 2023 edition boasted performances by chart-topping artists and underground DJs alike, including ODESZA, Polo & Pan, Channel Tres, Neil Frances, Bedouin, Kavinsky, Purple Disco Machine and more. Concert organizers once again turned to San Diego-based Show Imaging, Inc. to outfit The Palms Stage with an audio rig that delivered the impact and clarity required for a world class EDM festival without interfering with the concurrent sets happening on the other two stages.
In the past, Show Imaging president Steve Q. Evans was unsure about how the EDM market would take to the JBL VTX systems however, following a particularly successful implementation of Show Imaging's JBL VTX rig at a New Year's Eve event, the team confidently decided to deploy VTX speakers and subs to supercharge The Palms Stage at CRSSD Fest 2023.
"For me, when I started Show Imaging in 2014, JBL VRX Series was one of the first production products that we purchased," said Evans. "It was a great catch-all box for what we were doing at the time. HARMAN and JBL trusted us, and we trusted them. This trust has remained and grown over the years. We bought A8s, and we were on the fence about investing in A12 speakers because they hadn't had as much exposure in the EDM market yet. By summer of 2022, we were completely confident that the A12 speakers and B28 subwoofers were the next progression for our production inventory. By that time, we were growing bigger as a company and working on larger and higher profile jobs. CRSSD was a great opportunity for us to prove that VTX systems are phenomenal solutions for the EDM market."
To keep stage volume and unnecessary sound bleed to a minimum, the Palms Stage system deployed by Show Imaging consisted of a modest stage left-right hang of eight JBL VTX A12 line array speakers (four speakers per side) and two A12W front fills. Rather than focusing all the firepower in the stage hang, the team elected to distribute energy throughout the audience with a total of 56 VTX A8 compact line array speakers assembled as 14 four-box delays. Additionally, to ensure a powerful bass response in the space, the team deployed a total of 16 VTX B28 dual-subwoofers. This hybrid approach enabled the team to deliver the artists' music to every audience member with utmost clarity and definition, without creating excess energy that could negatively impact the music happening on the festival's other two stages.
"This project had very specific needs in terms of coverage and strict limits on allowable SPL levels," said Darrell Henry, Chief Operating Officer, Show Imaging. "We met these requirements using a distributed system with 16 different hangs in a fairly small space. The boxes are well-behaved acoustically; we can get a full and rich audio experience for the audience where we need it without excess sound bleeding elsewhere. We received nothing but positive feedback about the sound system on the Palms Stage. There was a consistent theme that VTX A series can stand side by side with any other high level competitor on the market."
The Show Imaging team noted that the seamless compatibility of VTX A12 and A8 speakers contributed to the success of their distributed delay configuration. They also expressed confidence in the predictive capabilities offered by the VTX Series speakers, ensuring that the final system performed exactly as it was intended to.
"JBL VTX A-Series provides two significant benefits for us when designing and deploying the systems," said Henry. "The first is the similarity in voicing and performance of the high frequencies between A12 and A8. This allows us to mix and match the boxes in our designs to meet weight limitations and venue-specific challenges. The second benefit is that the boxes are very predictable in their frequency response and coverage, virtually eliminating the need for onsite changes once we've calculated our designs."