HARMAN Professional Solutions Scores Big at Mitr Phol Stadium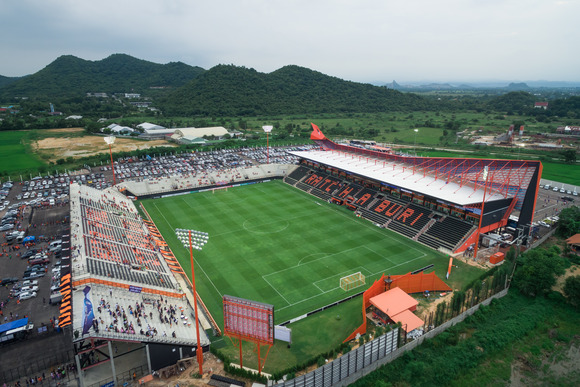 9. Mai 2018
Mahajak Development knocks its first stadium sound system installation out of the park with JBL, Crown, BSS and Soundcraft solutions
RATCHABURI, Thailand—Mahajak Development recently installed a complete audio system by HARMAN Professional Solutions at Mitr Phol Stadium.
The dedicated 10,000-seat soccer stadium in Huai Phai, Thailand is the official home field of Thai Premier League team Ratchaburi Mitr Phol FC. Completed in 2016 and constructed to FIFA standards at the cost of over 9 million dollars, Mitr Phol Stadium is a world-class soccer facility, equipped with sufficient parking lots, pressrooms, locker rooms and souvenir shops.
In order to ensure an exceptional audio experiences for fans with clear intelligibility at every seat in stadium, Ratchaburi Mitr Phol FC hired Mahajak Development to perform its first stadium audio installation. Mahajak rose to the challenge, selecting a complete HARMAN system for its unmatched audio quality, reliability and powerful performance.
"We required a customized audio solution for the new stadium that would deliver consistent coverage and vocal clarity for announcements and music performances," said Tanawat Nitikarnchana, Vice President, Ratchaburi Mitr Phol FC. "Mahajak supplied us with great customer service and a state-of-the-art HARMAN system. We're highly satisfied with the HARMAN system, which provides exceptional audio quality and perfect coverage, no matter where you are in the stadium."
The HARMAN system installed by Mahajak at Mitr Phol includes JBL speakers, Crown amplifiers, BSS audio processors and a Soundcraft audio mixer.
For the stadium's main PA, Mahajak deployed the JBL PD500 Series, a line of horn-loaded loudspeaker systems with patented WRC weather protection and WRX extreme weather finish for outdoor stadium use. The respective 60° x 40°, 60° x 60° and 90° x 50° horn coverage patterns of the PD564-WRC, PD566-WRC and PD595-WRC speakers enabled Mahajak to optimize system performance in each area of the stadium, delivering clear and balanced coverage in the grandstands, on the field and behind the goals. Highly weather-resistant JBL AWC129 compact loudspeakers provide additional support for fans sitting beneath the roof of the upper deck.
Every component in the system is centrally controlled via BSS Soundweb London BLU-100 and BLU-50 audio processors, and HiQnet-integrated Crown CTs 1200 power amplifiers. For mixing, Mahajak equipped the stadium's control room with a Soundcraft M-Series analog console, which offers intuitive audio control over live microphones and music playback sources during matches.
"HARMAN Professional Solutions is honored to have partnered with Mahajak Development to provide its first stadium sound system at Mitr Phol Stadium," said Ramesh Jayaraman, VP & GM, HARMAN Professional Solutions, APAC. "Our long-standing partner Mahajak Development has once again performed an exceptional job, and we look forward to growing our relationship with them."