HARMAN Professional Solutions Provides an Immersive Audio Experience for CityPride Multiplexes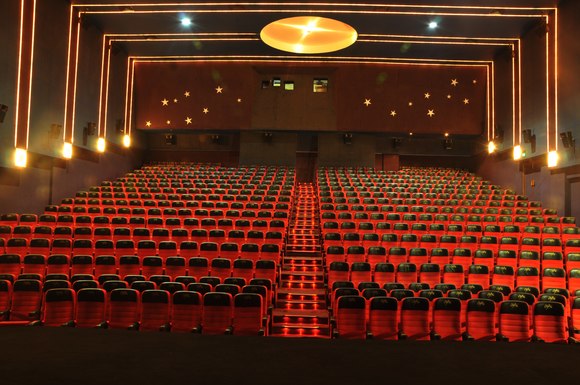 21. September 2016
Lexicon QLI-32 QuantumLogic Immersion processor, JBL cinema surround speakers and Crown amplifiers help audiences experience the highest-quality sound
MAHARASHTRA, India—HARMAN Professional Solutions today announced that CityPride Multiplexes has deployed a complete HARMAN cinema audio solution to provide exceptional sound quality for its state-of-the-art multiplex cinema. The new system features the Lexicon QLI-32 QuantumLogic Immersion processor, JBL loudspeakers and Crown DSi power amplifiers. CityPride selected the HARMAN solution for its seamless integration and ability to provide audiences with a truly immersive audio experience.
"The new HARMAN audio solution gives a completely new dimension to the sound and delivers unmatched output, clarity and fidelity," said Pushkaraj Chaphalkar, partner at CityPride Multiplexes. "We have received excellent reviews from the audience about the new sound system and they are thrilled to experience the vast improvement in sound quality."
CityPride installed the new HARMAN solution in its main cinema auditorium, which has a capacity of more than 500 seats. The new system includes a JBL 5742 4-way high power screen array, 9320 and 9310 cinema surround speakers, SCS 12 spatially cued surround loudspeakers and 4642A subwoofers. The new Lexicon QLI-32 cinema processor is designed to deliver up to 32 channels of surround sound, providing a deep and life-like sound experience for moviegoers. CityPride is the first cinema in India to deploy the QLI-32.
"The Lexicon QLI-32 allows us to ensure that the audience will get the best experience for each and every movie," said Chaphalkar. "The JBL speakers and Crown amplifiers provide incredible crispness and the new generation of surround speakers ensures that the bass effects are felt in surround sound as well."
CityPride has been using JBL speakers, amplifiers and subwoofers for over 20 years due to their industry-leading output, clarity and dependability. When CityPride decided to upgrade their audio system in the new auditorium, HARMAN was the clear choice.
"In the Indian market, there are several companies in the cinema audio sound segment, but some brands are too expensive while others require a special content format," said Chaphalkar. "The HARMAN cinema solution gives us a complete end-to-end solution — the speakers, amplifiers, subwoofers and the QLI-32 processor — all in one seamless package. The HARMAN solution provides an incredible sound experience and gives us a great value for our investment."